Okay, can I just say I was stoked to shoot this wedding. Ever since I met with Kristina + Tony, almost a year ago, I've known they would be getting ready at the Ace Hotel in Manhattan and would be getting married and having their reception the amazing Blue Hill. I love the Ace Hotel here in NY and I've always wanted to shoot a wedding at Blue Hill so clearly I was more than excited to shoot Kristina and Tony's wedding. First off, the Ace is just so fresh, (like design wise guys).  Every little thing has been thought about, right down to the awesome hangers which you can see below. I love it so much there that I've even spent a couple afternoons with my laptop just working in the lobby. No, I'm not a creepy hotel squatter, they have a very welcoming lobby/restaurant situation thing going on. Anyway, it's gorgeous, and modern, and quite simply — a rad place to be!
When I got to Kristina's room I had so many prop options for my detail shots I felt like I couldn't decide. I realized I just had to pick one thing at a time and go with it. Decision bing– Decision bang–Decision bam! That's how we wedding photographers roll– quick! There is something to be said for sticking a photographer in a styled environment though. First, it makes my job feel really easy. Second it makes my job as fun as eating candy! I loovvvvveee it!
It should also be said that Kristina + Tony decided to see each other for the first time before their ceremony which took place just before dusk. Such yummy light! This gave us plenty of time for portraits as well as family pics before the vows. I even had extra time to roam around the property and shoot all the little piggies, cows, bees, butterflies, and plants. Some of which you can see below. Seeing each other first also enabled me to shoot this bad boy solo because I never had to be in two places at the same time– for instance, cocktail hour + post-vow portrait session.  Something I used to frown upon, but these days with guests lists under 125 and a bride + groom willing to see each other first,  it's something I kinda love  shooting solo. For one thing, it just keeps things a little more on the low key side. After all your wedding isn't a photo shoot, it's a wedding. It should just look like a photo shoot when it comes out on my end right!? ;-)
Kristina + Tony's wedding was also lucky enough to be featured on Elizabeth Anne Designs blog. You can see the full post by clicking the screen grab or by clicking here.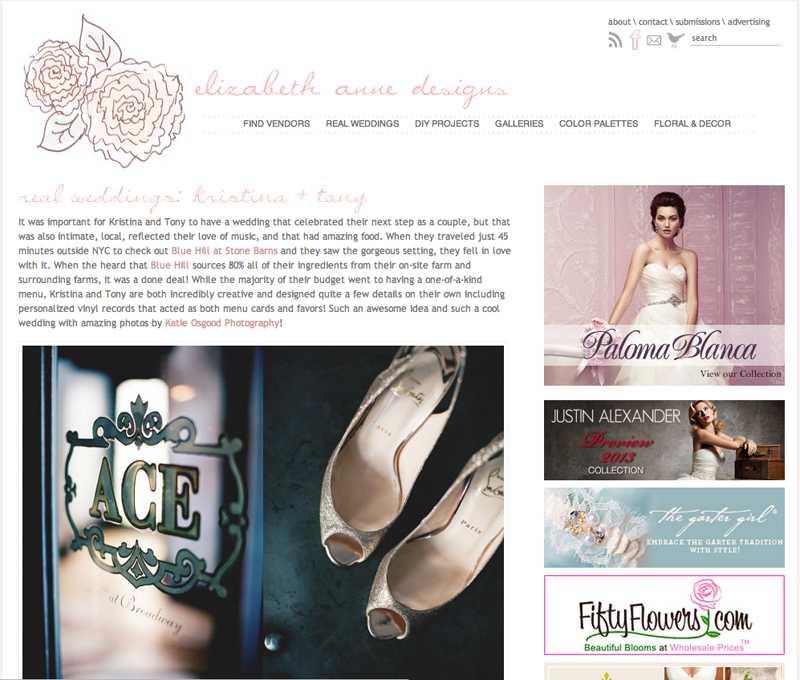 Congrats to Tony + Kristina! Thank you so much for bringing me along for the ride!
Venue: Blue Hill at Stone Barns
Bouquet Flowers: Sprout Home
Arch Flowers: Sandy Clothier Flowers
Cake: Momofuku
Invitations and escort cards designed by: the groom aka the awesome Tony Costello